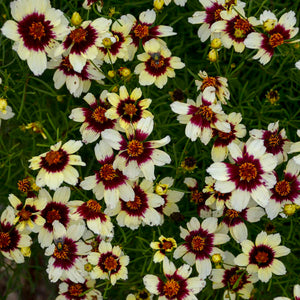 Coreopsis "Red Hot Vanilla"
Regular price
$8.99
$0.00
Unit price
per
Common Name: Threadleaf Coreopsis
 The habit and performance of this red and white Tickseed are almost too hot to handle! 1-1½" wide, cream flowers have a dark red central eye and form a domed, rounded habit. As the flower ages, the eye gets bigger until it comprises most of the flower. The flowers will cover the gray-green, threadleaf foliage for a showy midsummer display.
Coreopsis is easy to grow, making it a good choice for beginners. One plant will provide you with long-lasting cut flower bouquets all summer long.
Grows 15-18" tall  x 22-26" wide
Full sun
---