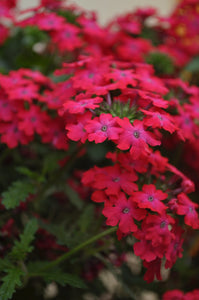 Proven Winners Superbena
Regular price
$5.99
$0.00
Unit price
per
Verbena flowers have been grown for generations and have a certain vintage appeal to them. Unfortunately, older verbenas were often plagued by powdery mildew which turned their foliage white and hampered their blooms from forming. Then, along came Superbena verbena to save the day! 
We've spent many years perfecting the disease resistance and strong flowering performance of Superbena verbena. You can be confident they'll grow and bloom beautifully for you from spring into fall without having to remove the spent blossoms. They're easy too, since they don't need quite as much water or food as some annuals. 
Superbenas grow well in hanging baskets, patio containers and landscapes. Expect them to have a mounding habit in spring but a more spreading or trailing shape as they mature through the seasons.
---